Step 2. Administrator's program setup
Usually administrator's program is set up on a separate computer although it can be installed on the computer with SQL server if required.
The main program objective is changing all settings for clients' workstations, server settings as well as setting up permission rights for additional administrators/managers.
It is possible to install this program on several computers simultaneously if there are several administrators working on different computers in your organization.
The setup will run only in administrator's account!
When setup is finished the database configuration utility will be launched automatically.
It is possible to launch this program again at any moment if required (for example after SQL server re-installation).
This program will create the Mirobase database on the SQL server and will perform all required activities to get started.
It's enough to run this program only once.
It is necessary to know the database administrator's login and password to enter the program. For example, user
"sa"
for
MSSQL
or
"root"
,
"myadmin"
for
MySQL
(see step 1 how to create
"myadmin"
).
It is possible to enter
MSSQL
with
Windows accounts
:
- do not specify the user or password to enter with
current account
;
- designate user in
DOMAIN\username
format (domain without dot in NETBIOS form) to enter with
a certain account
.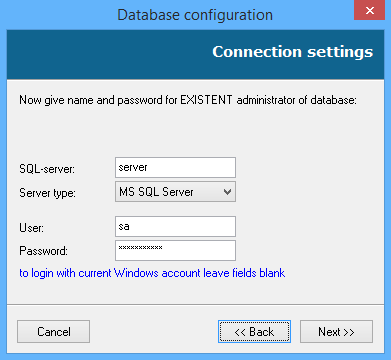 If
an error
occurred and you've
uninstalled
SQL server before it is necessary
to delete old Mirobase database files
that remained after SQL server reinstallation (this information is valid only for MSSQL Server).
Usually they are located in the following path: "\Microsoft SQL Server\MSSQL\Data\stkh.*". Afterwards it is required to restart the database configuration utility
once more
.
After successful processing the database is ready for operations and now you need to execute the
"Global settings"
application. It is important
to add at least one manager
at once in the program and define needed rights. See
here
Then it is necessary to move to the page with clients' computers and server settings. See
here
Moreover it is possible to enter Global settings program with new created manager's login (if you have delegated corresponding rights for changing settings).
Alternatively it is possible to create a
dossier
for each employee (in the tab
"Dossier of employees"
).
Optionally it is possible to create a
company hierarchy
for more convenient view (See
here
).
Automatic
synchronization with Active Directory
is also available in homonym tab
here
.
It is possible to finish operation in Global settings after creating a manager and settings setup.